Suzhou Image Laser Technology Co., Ltd was established in 2001, is a technology based company which committed in manufacturing and sales of security hologram sticker, ID Card hologram overlay, hologram tear tape & 0.8mm hologram security thread. Our company aims to provide customers with one stop security hologram solution from design, mastering/hologram mould, production, shipment and after-sale service.
Meanwhile we are IHAM member, China Anti Counterfeit Association member, owned more than 20 intellectual property in related technology field. Suzhou Image Laser strictly adhere to ISO 9001 quality control system, which help us to win more governmental orders and better feedback from our clients.
Our company are experienced in both commercial brands and government projects, including 2008 Beijing Olympic Games, 2014 Inchon Asian Games, 2018 Pyeongchang Winter Olympics, national ID card, driving license, passports and visa projects.
If you have any inquiries, please contact us, you will get in time technical support, one-stop solution and competitive price.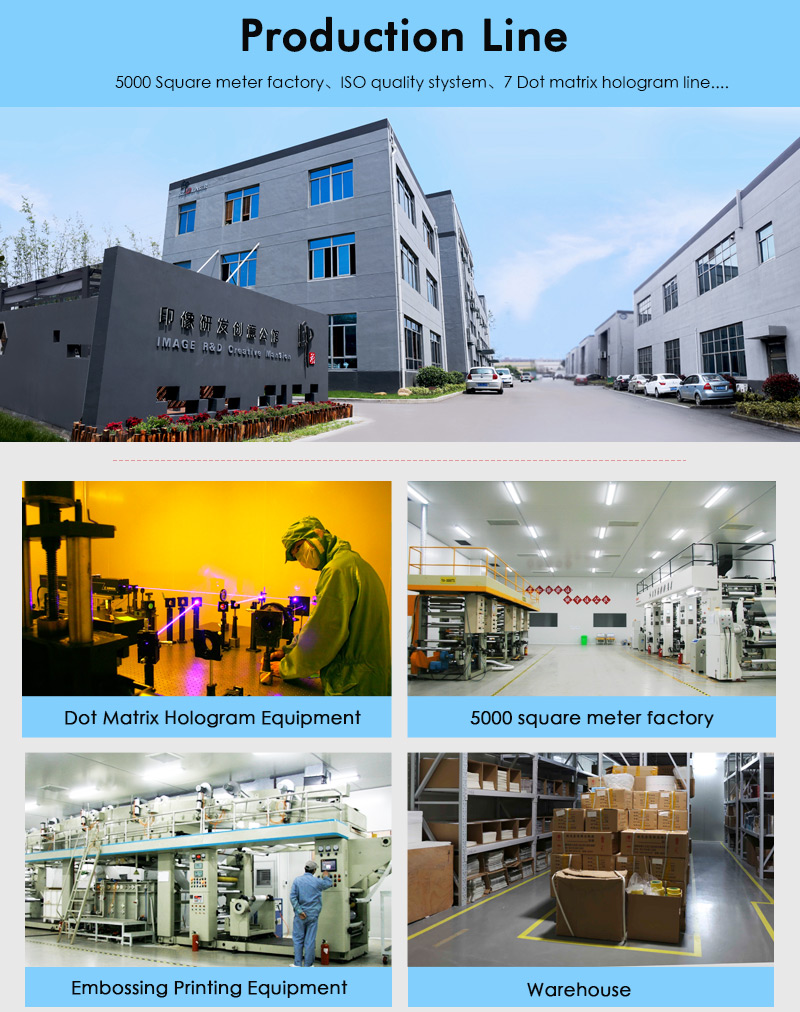 According to the different needs of different products in different industries, Suzhou Image Laser customizes the most cost-effective security hologram solutions that meet their own needs by considering design philosophy, production processing, security technology level, visual effects and many other factors.
—— Welcome to visit Suzhou Image Laser, enjoy our business cooperation and win-win!
Events of Suzhou Image Laser
Suzhou Image Laser Technology Co., Ltd is the original Shanghai GuanZhong Laser Technology Co., Ltd. The company is adhering to "Serve best in micro-nano optics industry" for business purposes and philosophy, strives to create the most outstanding optical security industry. We are first in China to set up optical security hologram design agency – IMAGE LASER Design Center.
Since the foundation, our company continuously undertake many goverment projects, including hologram laminate pouches of 2008 Beijing & 2018 Pyeongchang Olympic Games, Vechicle documents projects, holographic tax stamps, etc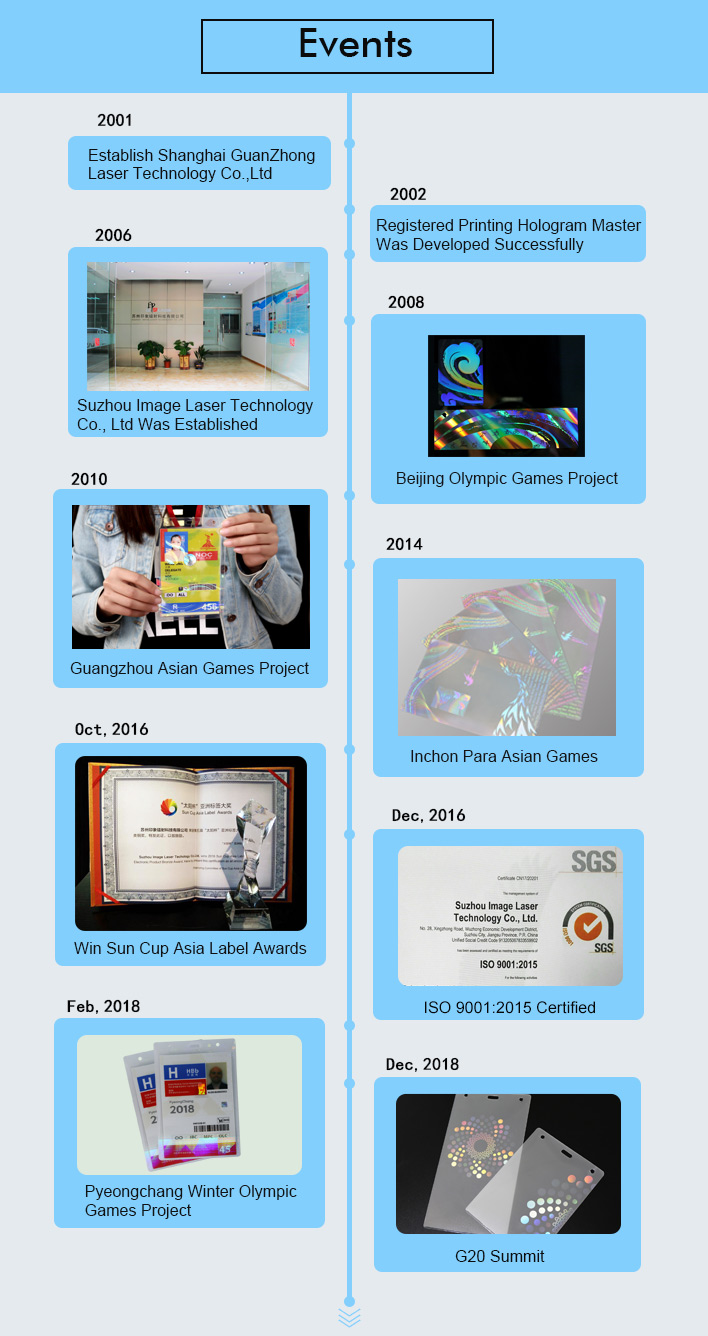 Innovation

Suzhou Image Laser never stop exploring and developing in the field of Optical security technology. The company expand the input of the state-of-the-art equipment and R & D projects.

The company will invest 15% of annual revenue into new technology research and development
Suzhou Image Laser collaborated with famous enterprise on long term R&D programs on micro-nano structure and wide-wed embossing products.
For every enterprise, innovation is the primary productive force. That's why Suzhou Image Laser invest large amount of money and staffs on products development.

Our new state-of-the-art equipment once start to use, they will ultimately improve production efficiency.

Many of invented products will emerge every year, several of which would receive awards.

Company Certificates & Honor
Quality Comes First
Quality is our culture, Suzhou Image Laser continue to improve the quality of our products and services as a top priority of the work. All of security hologram products are processed and managed under ISO9001 System.
IHMA ( International Hologram Manufacturers Association ) Members
The first sole optical hologram design center in china-provide you the professioal design and personalized security slutions.

Our design team won Sun Cup Asia Label Awards. Meanwhile Suzhou Image Laser won " Blue Shield" Market Development Awards in security industry.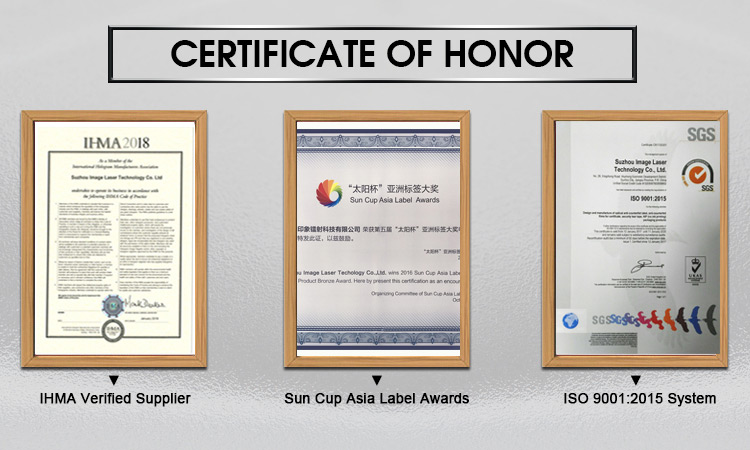 R & D Ability
Our Products have got more than 20 patent certificates, like invention patent­-NIP Products production method, anti-counterfeit Sticker & Micro-nano optical diffraction security thread, etc.
Hi-tech product identification certificate­-transparent security hologram pouch, 0.8mm micro-nano diffraction security thread, Multi-functional hologram master combination system, etc.

Work Environment Safety
1000 Level clean workshop & NIP(no ink printing products) production popularization make Suzhou Image Laser satisfy the requirements of the latest international standards for the management of health and safety in work environments.